/
Everything you Need to Know about Visiting Kitzsteinhorn!
Kitzsteinhorn is a mountain in the High Tauern range of the Eastern Alps. It is home to a year-round glacier at the top, making it a popular training area for skiers early in the season when there isn't snow elsewhere.  Kitzsteinhorn is the peak ski area located near Zell am See AND near Kaprun, and you'll see both towns labeled underneath "Kitzsteinhorn" on signs. I definitely recommend visiting Kitzsteinhorn if you are traveling in Western Austria.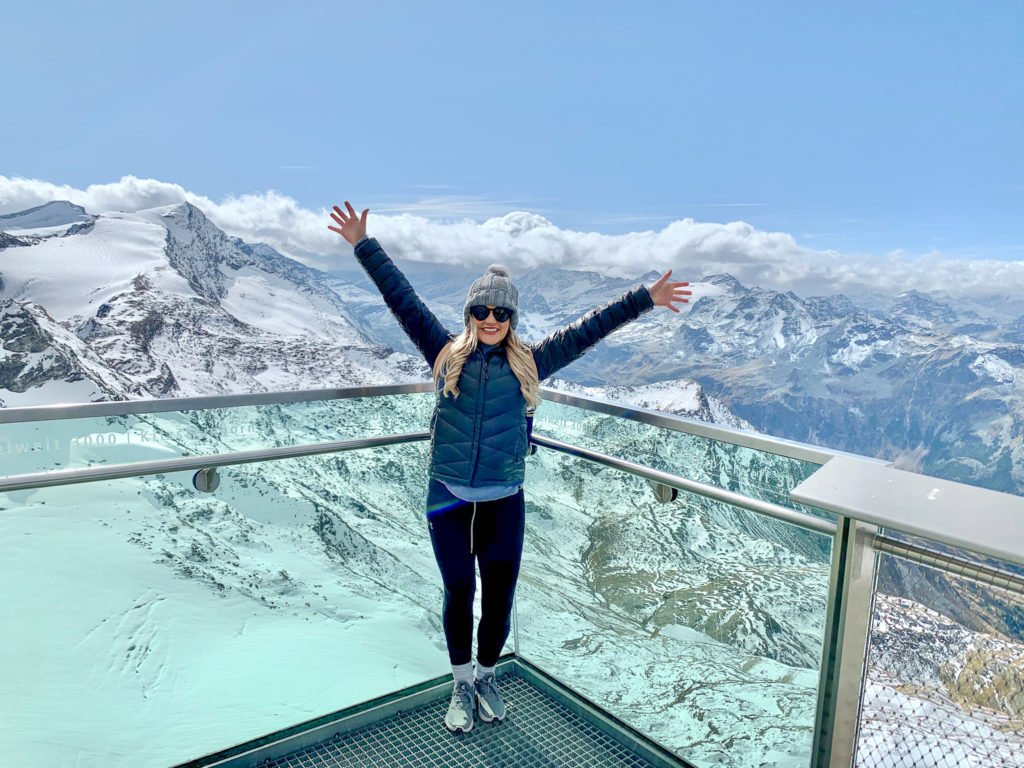 Truthfully, we got a little confused when trying to plan this portion of our trip. We were looking for somewhere to ride a gondola or cable car high into the mountains for panoramic views of the Austrian Alps. We saw a lot of different names of places that all looked similar and names of different towns and weren't sure exactly where we needed to go and what we needed to do. Here were some things that helped clarify things for me:
First of all, Zell am See and Kaprun are separate towns that are very close together at the base of the Kitzsteinhorn mountain. Kaprun is closer to the base; Zell am See is located on the lake
Second, there is a Schmittenhohebahn Cable car in Zell am See that climbs to Schmittenhohe. This is a smaller ski area or hiking area: you are

not

looking for this to get to Kitzteinhorn
Third, we kept seeing an overlook called "Top of Salzburg." This is located at the Kitzteinhorn Peak! 
There are two routes to get to the Kitzsteinhorn peak and "Top of Salzburg." One base is located in Kaprun and one is located just past Kaprun. We chose to use the one just past Kaprun called Kitzsteinhorn Talstation using the Gletcherjet gondolas (I believe the second route and the connection from Kaprun to Kitzsteinhorn is fairly new.)
Kitzsteinhorn talstation Gletscherjet

Located at Kesselfallstrasse 60, 5710 Kaprun

Kaprun Center- talstation Maikogelbahn

Located at Kitzsteinhornplatz 1a, 5710 Kaprun
To get to the Kitzsteinhorn talstation Gletcherjet base, drive past Kaprun, about 20 minutes from Zell am See where you can hop on Gletcherjet 1. 
We found the first route to be easy to navigate, but if you aren't driving yourself and you've already bussed to Kaprun, option two is likely your best option!
The Process of getting to the Peak
As mentioned before, we took the Kitzsteinhorn talstation Gletcherjet route. It takes 5 different gondolas to get to the peak at Kitzsteinhorn from the base. 
At the base take the Gletsherjet 1 and 2 to the Alpine center to take in views, use the bathroom, eat, etc
From the Alpine Center take Gletsherjet 3 and 4 
Transfer to the Gletsher Shuttle to get to the "Top of Salzburg" 
The second option to get to Kitzsteinhorn begins in the town of Kaprun by taking the Maiskogelbahn to Maiskogel and then taking the 3K K-onnection to get on the Gletscherjet 2.
The easiest way to get organized is to find the map at the base before you hop onto Gletscherjet 1 (or Maiskogelbahn at the Kaprun base). Click here for an enlarged map of both options!!
The Alpine center is located halfway up from the base to the Top of Salzburg viewing platform, and you'll already be amazed at the views from this mount. Visiting in October, we had 70 degree weather with fall-colored leaves and it was amazing to see the quick terrain and temperature changes only halfway up the mountain. 
There are restaurants, shops and bathrooms located here, and if you want to ski, there is also access to slopes at this level. 
Once you transfer to the Gletscher shuttle, you will come out near the Top of Salzburg viewing platform and the restaurant. You can go through the National Park Gallery tunnel which will come out at a viewing platform as well. We actually went straight to the tunnel and almost missed the Top of Salzburg platform!
Gipfel restaurant and a Cinema that plays "Kitzsteinhorn- The Nature" are located at the top as well. 
As I mentioned before, the weather can be warm and peachy at the base, but be prepared for cool and windy at the top, even in the summer! You peak at 3, 029 meters and there is a year-round glacier at the top. Therefore,  pack your jackets, beanies and gloves when visiting Kitzsteinhorn, even if you're sweating at the bottom. 
Also, with high altitudes comes frequent cloud coverage. You won't get a good view if there are clouds and fog, so before you spend your money, check the forecast! You can see the weather and a live cam view at each location here. Also, typically, the staff will warn you before you purchase your ticket if the views are going to be obscured. 
Don't confuse Kitzsteinhorn with these
Being in an area surrounded by Austrian Alps, there are several places to see breathtaking views. Some of the other highest and popular viewing platforms include:
Top of Tyrol, Stubai, Tirol

Platform overlooking Stubai Glacier
Closer to Solden, Austria along the Italian border southwest of Innsbruck

Dachstein Sky Walk

The Stairway to Nothingness: 14 steps to a glass platform
328 ft (100 m) long suspension bridge with a 1,312 ft (400 m) drop 
Just south of Hallstatt and an hour and a half from Zell am See and from Salzburg
We originally had the Dachstein Sky Walk in our itinerary thinking it was the same thing as the Top of Salzburg viewing platform. It is not 🙂 No matter which you choose (which you should chose one), they'll all provide unbelievable views!
Unfortunately, using the gondolas and lifts comes with a price. Tickets to the Top of Salzburg are 48 euros. It is 38 euros to go to the Alpine center, but I don't recommend just stopping there; you'll miss out on a lot!
Click here for more information on pricing and to purchase tickets prior to visitng Kitzsteinhorn.
Final Thoughts on Visiting Kitzsteinhorn
Planning the visit up Kitzsteinhorn kind of put us to the test; it was confusing to know where to go and how to get the views we had in mind. I hope this guide makes visiting Kitzsteinhorn a little easier for you! If you are staying in Salzburg, Kitzsteinhorn can easily be made into a day trip, only about an hour and a half from Salzburg. Click here for information on what to do in Salzburg!