You have it in you to plan your trip of a lifetime! Elizabeth and I tag-team the planning for all of our trips. Here is a collaborative page of frequently used resources we use to book flights, accommodations, transportation, travel routes and more!
Work on Monday Travels is supported by readers and, at no cost to you, may earn commission when you book or purchase using our links. Full disclosure found here.
Flights will make up a large portion of your travel budget. Expensive flights can bust the budget and cheap flights can set you up for a very affordable vacation. We search around multiple websites to find the best flight deals and to keep an eye on trending flight prices. Below are our most frequented flight sites!
99% of the time this is where I start. I love that it has an "anywhere" option to see where in the world you can fly to for cheapest at any given time!
Find the cheapest flights among multiple airlines. All fees are included in the price shown. Also, type flights from New York to Everywhere to see whats cheapest!
Your site for finding flights pieced together for low cost. At times, the low cost comes with long layovers. But visit a new city and make the most of it!
Track flight price trends! The Hopper is a phone app only (no website), but will provide information on "probable" future trends for flight prices. Book now or wait?!
Find your best and most affordable
You want a clean place to lay your head after a long day of traveling. Whether you like to splurge on a fancy accommodation or whether you just need a place to store your stuff and sleep at night, you will want to get the best deals. Below are the websites we use most frequently to book our accommodations! Use these resources and the link below for tips on getting the cheapest accommodations!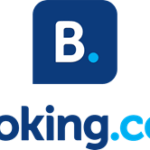 Find your choice of hotels, houses, hostels and more. Perk: you can reserve without fees or payments!
Find the cutest accommodations through VRBO Great for group travel, but watch for added fees if you travel solo!
A fully reliable site for finding the best hostels! Your option of private rooms, bunk room and more. Instant confirmation with no booking fees.
Best hotel deals using the Pricebreaker! Pick your "star" of hotel and let them pick the hotel for a great price on your hotel room!
getting around with proper
Hopping on a flight and landing in your next destination is the easy part. How do you get around once you get there? Can you walk? Is there a subway/underground system? Should you train, bus or fly to the next destination? Here are a resources we use to book transportation or help us decide on which transportation we need! Click below for tips on how to get around Europe!
A perk of planning your own trip is that you are on your own time and can stop where you want to stop. However, it takes more planning. US Roadtrips or exploring multiple countries in Europe requires you to plan the route and pick the destinations you want to stop. Here are the resources we use to help plan the route and to choose the stops along the route!
Maps
This one may seem obvious, but it's typically the first place I go to start mapping a route of where I want to go on a trip! See whats destinations will fit well into your trip!
Great for seeing transportation options. Also great for creating an Itinerary on a map. Plug in one city to the next and see it visually on the map with the transportation that is easiest!
The obvious GO-TO for inspiration on where to travel and what to see! Find great itineraries for domestic and international travel!
Google Maps
Once your route is mapped out it is time to figure out how to navigate the cities. Use Google Maps to download a map to access while exploring the city on foot and offline!
You've got your bus tickets bought and your hotel booked and you've just arrived in your next destination. However, what is there to do once you get there? How will you fill your time? Having an idea of what you would like to see and do in each city or destination will save you some wasted time looking for things to do when you get there! Click below to learn how to create a great itinerary on your own!