/
How Much Does an NYC Christmas Weekend Really Cost?
There is really no secret recipe to visiting New York City at Christmas on a budget. It is the busiest and most popular time to visit NYC and with that comes inflated prices. However, NYC at Christmas really is magical and worth a visit; so what does an NYC Christmas weekend cost? 
Here you will find:
How much we paid for flights
Hotel prices
Cost of food/drinks
Transportation costs
Total price of our weekend trip
Where you can likely save a little money!
Surprisingly enough, flights were not the most alarming price of all the things we spent money on.
Direct flights from Little Rock were just under $400 round-trip
However, I took the same round-trip flight for about $275 and as of today (October 28th) prices are about $350 for the DIRECT flight (cheaper ones were available)
So, long story short, flights can be quite affordable, but they need to be booked sooner rather than later! 
Arkansas natives: this direct flight is with American Airlines from Little Rock directly to La Guardia airport, which is the closest airport to NYC! The flight usually leaves around 6:00 am and you arrive in NYC by about 10:00am. A great option for a Christmas weekend
This is where things start getting out of hand 😅 The hotel will likely be the bulk of your NYC Christmas weekend cost. 
Hotels in a central location in Manhattan are going to run from $400-$500 a night. And these are the 3-star hotels. Obviously, the farther away you get from central Manhattan the cheaper hotels will be.  Midtown South area is far enough away from Times Square to be less crowded but still in walking distance of nearly everything we wanted to see. 
We stayed in in the Holiday Inn Express Manhattan. The price for two nights in 2022 for the first weekend of December was $895 (taxes included) booked last minute (11/2/22). As of right now, prices seem to be about the same, but it has varied as I have looked. Booking sooner rather than later is probably a good idea. 
Any time of year, NYC is not known for its super affordable restaurants. However, you can spend as much as you are willing to pay on food in NYC. It really has any kind of food you can dream of and has a wide variety of price-levels also. 
We were able to find dinner for about $20 per person and that wasn't choosing the cheapest item on the menu usually. 
The real spending will be with alcoholic beverages. On average, drinks were about $10 a piece and these will likely get higher if you choose to go to a bar with an epic NYC view. I thought it would be magical to have a glass of champagne at The Edge while watching the sunset over the NYC cityscape- it was but it was a $20(!!) magical moment.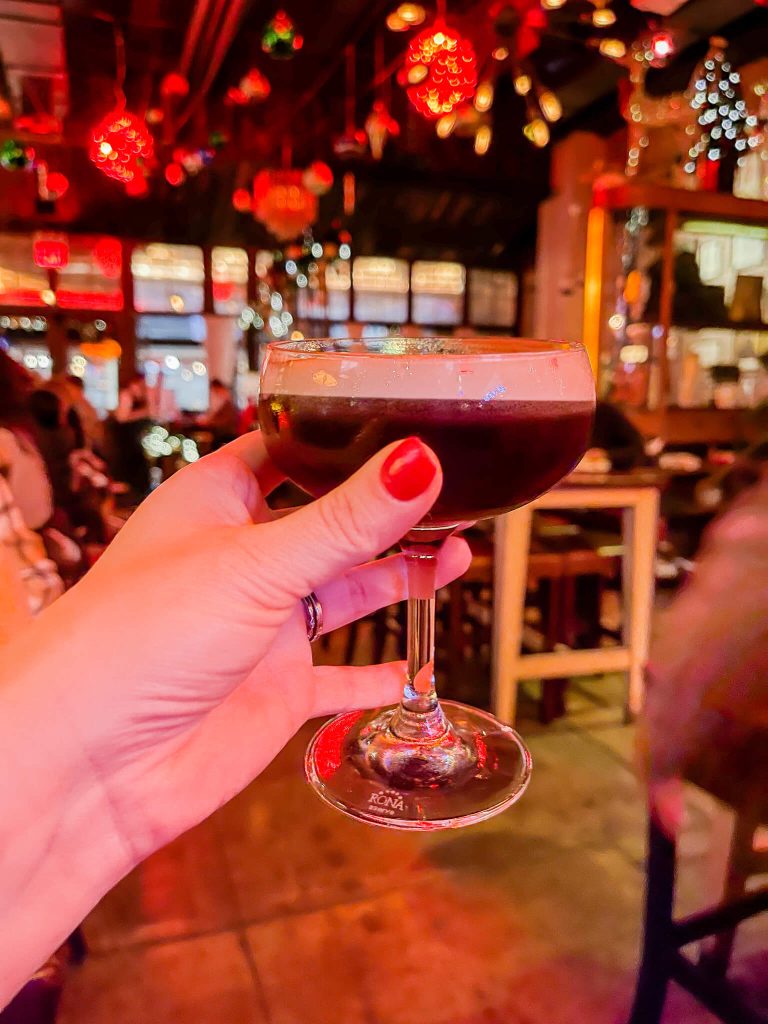 Taxis and ride-shares will be expensive, so avoid them to stay on budget.
The only expensive transportation expense is if you opt to take a taxi or ride-share to/from the airport. For convenience, this is how we got to/from the airport.
The price was about $50-$60 each way. Ride-shares are typically a little more, so I recommend choosing taxi over the ride-shares.
But note, a common scam is taxi drivers pretending their card systems are broken and trying to charge more for the ride. You can often download the

Curb app

and it will have a real-time cost of your taxi ride so you won't be blindsided. 
The cheaper option to get into the city is definitely public transportation (less than $10). 
There aren't direct subway lines to the airports

However

, every airport has either a bus (free with La Guardia airport) or AirTrain to the nearest subway stop
This will likely add about 20-30 minutes to the trip into the city, but definitely the cheapest option
Subway rides are about $2.75 each ride. However, luckily many of the Christmas highlights are within walking distance, so you'll really only need the Subway to get to/from lower Manhattan (or to Brooklyn if you decide to go and don't walk across the bridge). 
Our Total NYC Christmas Weekend Cost
I took this trip with my mom and sister, so some of the larger ticket items were split 3 ways. Also, we booked the big ticket items (flights and hotels) on November 2nd, so only a month before we went. Definitely do not recommend this. You will save money by being ahead of the game and booking early!
Flights: $397 per person (track flight prices; the flight we took has been a little over $100 cheaper)
Hotel: $895 total ($298 per person)
Taxi to/from hotel: $120 total (about $60 each way; 40 per person)
Rockette Show: $71 per person (for the 10:00 show. The 7:00 show was about $119 and prices go up closer to Christmas)
The Edge: $40 per person 
Guided Hudson River Cruise: $40 per person
Food/Drink: ~120 per person (breakfast was included at the hotel and dinner with drinks was about $40 per person plus a couple more random drinks and snacks)
Two subway rides: $5.50 per person 
Total: ~$1,011 per person for the weekend
How to Decrease your NYC Christmas Weekend Cost
Again, you won't be going to NYC at Christmas for "cheap," but you can definitely save in little ways. Luckily, many of the sights to see at Christmas are free to walk to and view! So if you pick just a couple of activities to do (they add up!) and don't go crazy shopping, you can keep spending reasonable. 
Hotels are going to be your greatest expense. We opted to fly in early on Friday rather than Thursday evening for this very reason. Besides cutting back on the number of nights you stay, location will make a difference.
Manhattan is expensive. Convenience pays. The further you get from central Manhattan (Times Square region), the cheaper hotels will likely be.
If you are REALLY wanting to decrease cost, you can stay in Brooklyn or another borough of NYC, but it will not be convenient for someone who will be in NYC for only 48 hours. You'll have to weigh your priories. 
Take a friend or two. Splitting the cost of the hotel will help tremendously! 
The thing about food is you are going to spend as much as you want to spend really. I don't particularly like spending a lot of money on food, but I know food is some peoples favorite part of traveling. Tips for saving on food:
Choose a hotel with free breakfast. Eat a big one!
Snack for lunch then buy dinner
NYC is know for its street food, so instead of sitting at an expensive restaurant, try the hot dogs or other street food
Anything with a rooftop city view is going to cost $$$- skip those if you are trying to decrease costs
Chinatown! Chinatown is a foodies paradise and is also typically has more affordable food options!
Again, taxi and ride-shares are not going to be friendly on the wallet. Lace up your comfy shoes and save money by walking! Public transportation is also an affordable option with Subway rides being about $2.75 per ride. 
Take count of what activities you would like to do and determine if the Go City Pass will be a money-saver for you. The Explorer Pass covers entry into sights such as The Empire State Building, the Statue of Liberty, Top of the Rock, the Edge, etc. 
We opted to do just a couple of activities and spent the rest of our time doing free sight-seeing, so we opted out of the Go City Pass. However, if you decide to do 3-4 activities then the pass will likely save you money!
NYC Christmas Weekend Cost- Recap
The most draw-dropping price when booking our NYC Christmas weekend was definitely the hotels. If you are able to book these early and get more affordable prices, a weekend trip to NYC for Christmas really won't be an outrageous expense. 
Also, the total price will vary depending on where you are flying from. However, this will give a good idea of how much an NYC Christmas weekend will cost. Hopefully you can find a way to keep the price manageable! Either way, it really is a magical experience!
If you are looking for a great way to spend 48 hours in NYC at Christmas, click here!